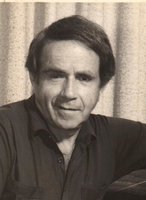 Gerhard Artur Dorn
Gerhard Artur Dorn, age 90 of Kingston, Ontario, died peacefully on the morning of January 13, 2018 with his family at his side, in transit and in prayer. He was born in Berlin, Germany to Artur and Kathe Dorn on December 12, 1927. Gerry is survived by his beloved wife of 65 years, Eva Maria (Waldt) Dorn, his 2 daughters, Christina Carr of Moncton, New Brunswick and Nancy Cookson of Colorado Springs, Colorado and their families. He was a dedicated grandfather of 4 granddaughters and 1 great granddaughter.
Gerry was a WWII veteran and POW survivor. He and Eva built a new life for themselves after immigrating to Canada in 1955. After 30 years, Gerry retired as the vice president of Rapid Blue Print in Hamilton, Ontario, having started as a printer's apprentice.
Gerry had a passion for photography, music, technology and travel. Above all, he loved his dear wife and his family.
Gerhard will always be remembered as our loving husband, father, and Opa for his strength, love and constant positivity.
Be joyful in hope,
Patient in affliction,
Faithful in prayer.
Romans 12:12