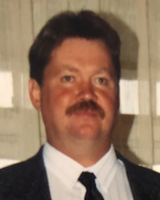 Bryan Graham
It is with loving memory and great sadness that we announce the passing of Bryan George Graham on Wednesday, February 24, 2021, age 65. Born in Harrowsmith on July 17, 1955, he was the son of Doreen and the late Basil Graham. His first love was his family. He is survived by his children Lindsay (Clayton) and Nicholas (Carrie-Lee), and was the proud grandfather of Oliver. He is also survived by his brothers Barry, Bill (Wendy) and Bob (Ruth), his sisters, Brenda (Ken), Barb (Rob) and Bonnie (Brad), and nieces and nephews.
He enjoyed a successful career in the construction industry where he was well known and respected for his proficiency as a heavy equipment operator. He loved a Sunday drive, touring the countryside to visit old friends and check out the various construction sites in the area. He will be forever remembered for his love of farming, quick wit, story-telling and always having a new joke to tell.
Cremation has taken place and there will be no visitation or funeral by his request. Family and close friends will be invited to a burial of his remains at a later date. Donations may be made to the Canadian Cancer Society.
Arrangements entrusted to Payne Funeral Home, 178 Main St., Odessa, ON K0H 2H0 (613-386-7373). Please share your memories and condolences to the family at www.paynefuneralhome.com